Trucking Industry Largest Trade Show Returns for 2023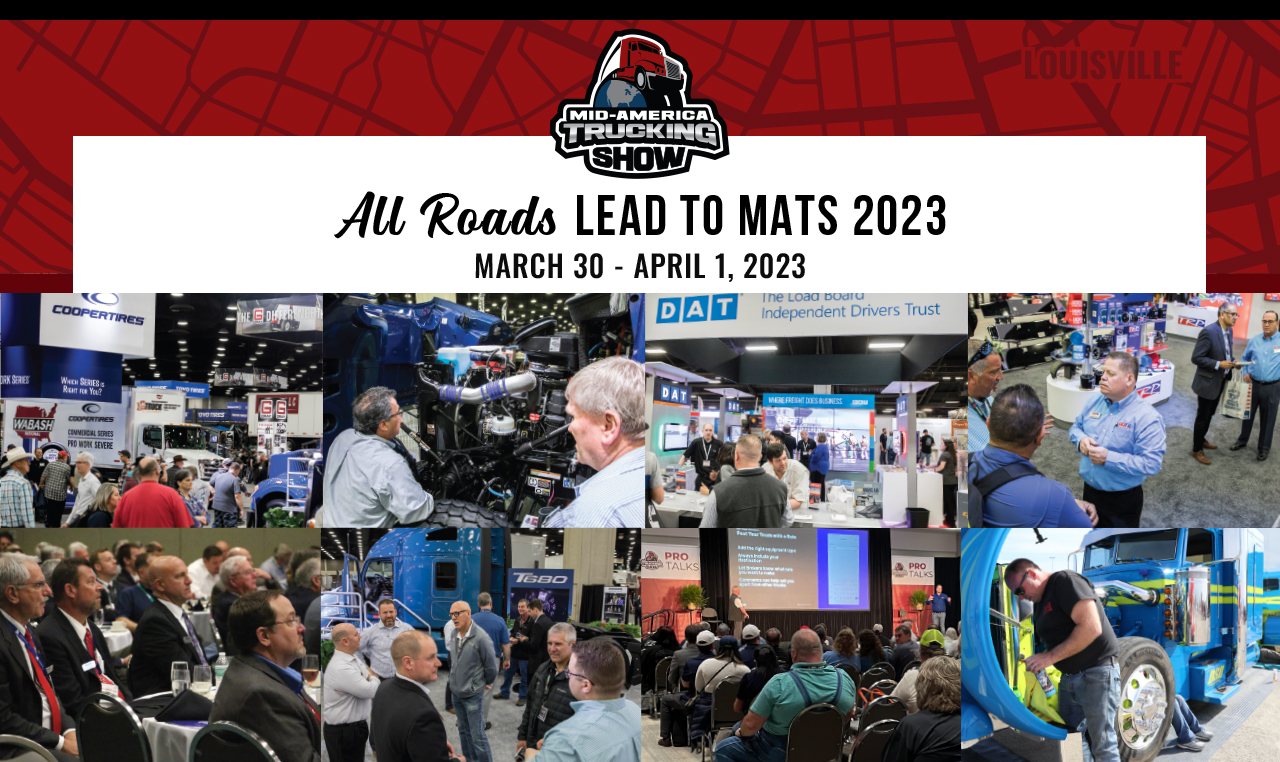 The Mid-America Trucking Show is set for March 30-April 1, 2023 at the Kentucky Expo Center in Louisville, KY! Registration is open to trucking professionals and industry media at www.truckingshow.com/registration. Free early bird registration ends on February 28, 2023.
Building on the success of the 50th anniversary, planning for the 2023 show is well underway. Organizers are expecting to surpass MATS 2022's numbers where more than 58,000 attendees saw 850+ exhibiting companies showcasing over 1,000,000 square feet of exhibit space.
"MATS is the one event on the industry calendar that brings the entire industry together face-to-face to see the latest innovations and collaborate to define the future of trucking, said Toby Young, MATS President. "MATS is the best opportunity for more than tens of thousands of trucking professionals to experience hands-on demonstrations and find solutions to improve their businesses."
 In addition to the extensive exhibits on the tradeshow floor, MATS 2023 will also host a full schedule of education and networking and events. "We poll our attendees each year to identify how we can improve MATS to address their business needs, and our 2023 events and education will be a reflection of those efforts," said Young. "New this year, MATS VIP Executive Breakfast will host industry thought leaders from Bosch L.OS, Amazon Web Services, Schneider National, and Tenstreet in a discussions about solving today's challenges through digitalization and leading the way for a sustainable future for transportation and logistics.
 All registered attendees receive free admission to:
For more information on exhibiting at MATS 2023, please visit https://truckingshow.com/why-exhibit/.
For more information on attending MATS 2023, please visit https://truckingshow.com/why-attend/.
For information on hotels and other accommodations, please visit https://truckingshow.com/where-to-stay/.
#MATS2023 
About MATS
Since 1972, MATS – Mid-America Trucking Show has become the world's largest and longest running annual heavy-duty trucking event. MATS is the place to experience everything from new technologies to networking with industry thought leaders. This is where the industry's largest brands and promising startups do business, form partnerships, and make meaningful connections. Over 900 exhibitors and more than 60,000 attendees experience MATS each year, making it the education and innovation epicenter of the trucking industry. All roads lead to MATS 51 on March 30-April 1, 2023.